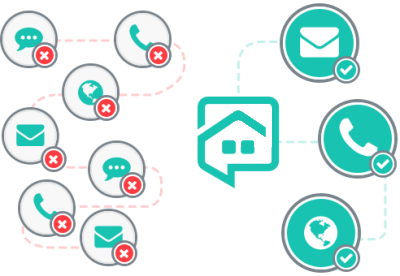 Just as you are seeking out quality renters, there are great renters out there looking for a quality property manager. Finding a quality renter means less stress and saves you both time and money. However, it can sometimes be difficult to attract quality renters.  Here are four tips on how to attract quality renters, including using property management tools.
Stand Out from the Rest
It can be extremely beneficial to take the time to put yourself in your potential renter's shoes. What would make your rental property stand out? What would make your space more appealing and accommodating than others in the area? When it comes to attracting renters, make sure that your property stands out from the rest. Highlighting the most attractive points about your space can help draw the right renters in. For example, if your property is located within a good schooling district or is in a secure neighborhood, make sure those points are highlighted and advertised. This will help to draw potential renters to your property and promote your rental listing.
Use Property Management Tools
Online property management tools can be extremely beneficial for today's property management. Renters appreciate when applications and payment options are available online. Having these tools on hand will help to attract more modern renters to your renting space. It also, in turn, helps you to work more efficiently by streamlining payment, receiving an application, and conducting other property management business. Your whole rental property can stay organized and maintained all in the palm of your hand.
Make Your Standards Clear
Do you require a minimum income? Does a renter have to have a minimum credit score to apply? Making your standards clear from the beginning can help save you time and stress in the long run. It helps to attract only quality renters. Renters that will pay their rent on time and keep to high standards. If you don't want to accept renters that don't meet certain requirements, then you should make sure your standards are clearly stated from the beginning.
Offer Incentives
Offering incentives for timely applications can help you attract quality applicants. This not only gets applications in quickly and your rental space filled, but it also gets you off to a good start with your new renters. Offering a discount on the first month's rent or something exclusive to your rental property will persuade quality renters to apply for your space over others in the area.
Attracting quality renters to your space doesn't have to be difficult. Using these four tips can help you fill your space with great renters. At NowRenting, we offer management software to make renting a breeze. We help to streamline communications between renters and property management to make everyone's lives as stress-free as possible. To learn more about how NowRenting can benefit you, visit our website today!