The best tenant background check website isn't one that will just give you a renter's criminal history.
If relying on a criminal background check has been your modus operandi for screening tenants, it shouldn't come as a surprise if you've struggled with problematic renters. The higher your standards are for choosing a tenant, the more likely it is that your unit is going to remain occupied—and by a fantastic tenant.
The best tenant background check website you could find is going to include eviction history, criminal record and credit reporting. Additionally, it's going to help you pre-screen your tenant leads.
Does this sound too involved or expensive? Well, we have news for you..it's not.
The best website for tenant background checks and screening is NowRenting.com. Not only is NowRenting a website for comprehensive background reports, it's an app that helps you save time on everything from marketing a property to reminding tenants to pay their rent.
Essentially, it's like having a digital rental assistant that makes your business operations more streamlined. Keep reading to learn why NowRenting is the best tenant background check website available.

Or, get a free tenant background check now.
Features of the Best Tenant Background Check Website
1. Pre-Screens Tenants for You
This is by far one of the most unique features that makes NowRenting the best tenant background check website.
NowRenting has a feature that revolutionizes the way you screen potential tenants. When you use NowRenting's tool to post rental listings to multiple websites at once, all leads will be subjected to pre-screening questions. Best of all, these are customized by you!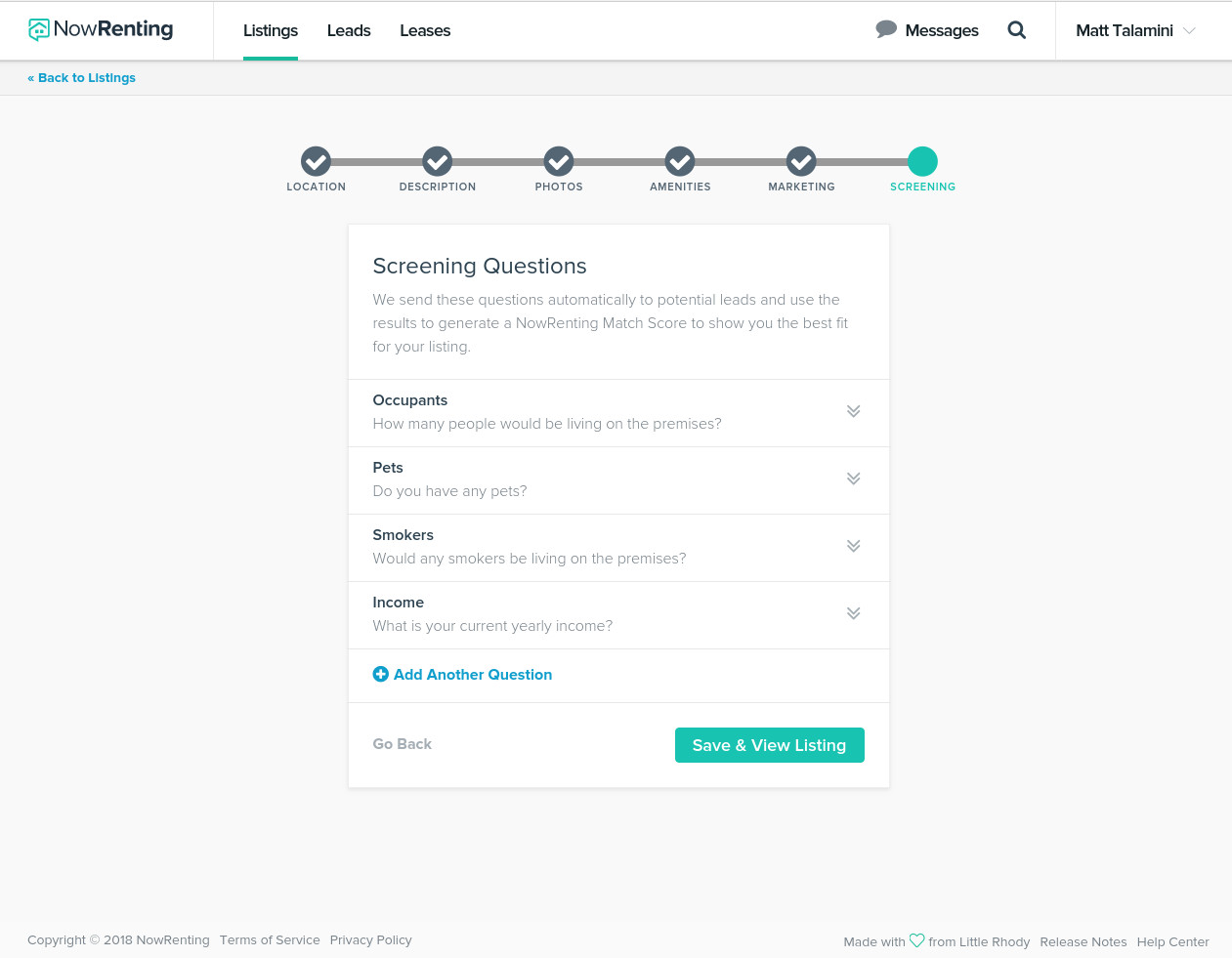 Find out right off the bat if a tenant fits your criteria. For example, you can ask if a tenant has pets and make it a requirement that they tell you what kind of pets they have (e.g. large dog).
You can assign a score to that answer when you set up the screening questions. Continuing to use the pets example, if the answer "large dog" is a red flag for you, you can assign a substandard rating to that answer.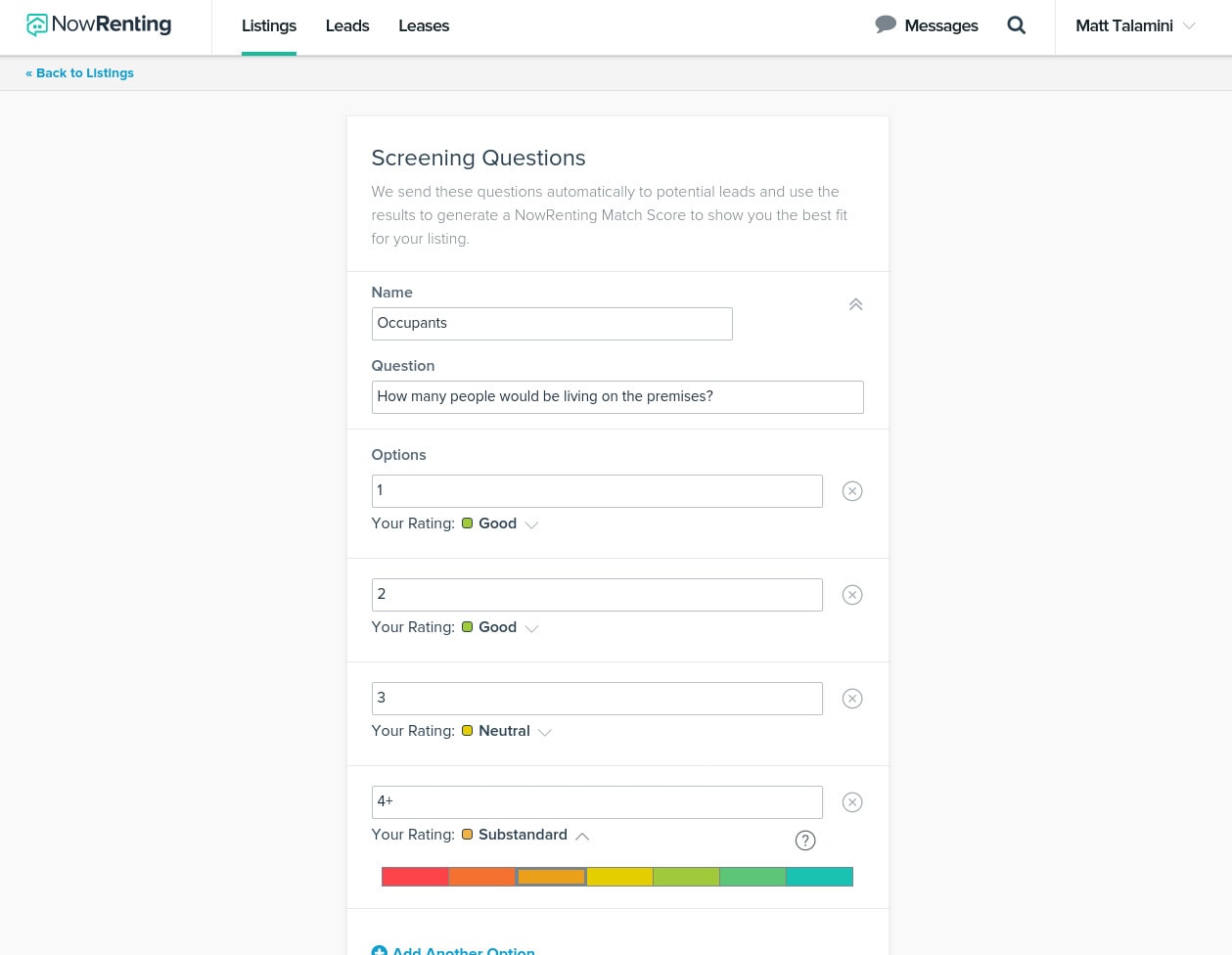 This way, when you receive a lead in your NowRenting dashboard, NowRenting will incorporate that into their match score. This makes it obvious to you at a glance that the lead is a less-than-ideal tenant.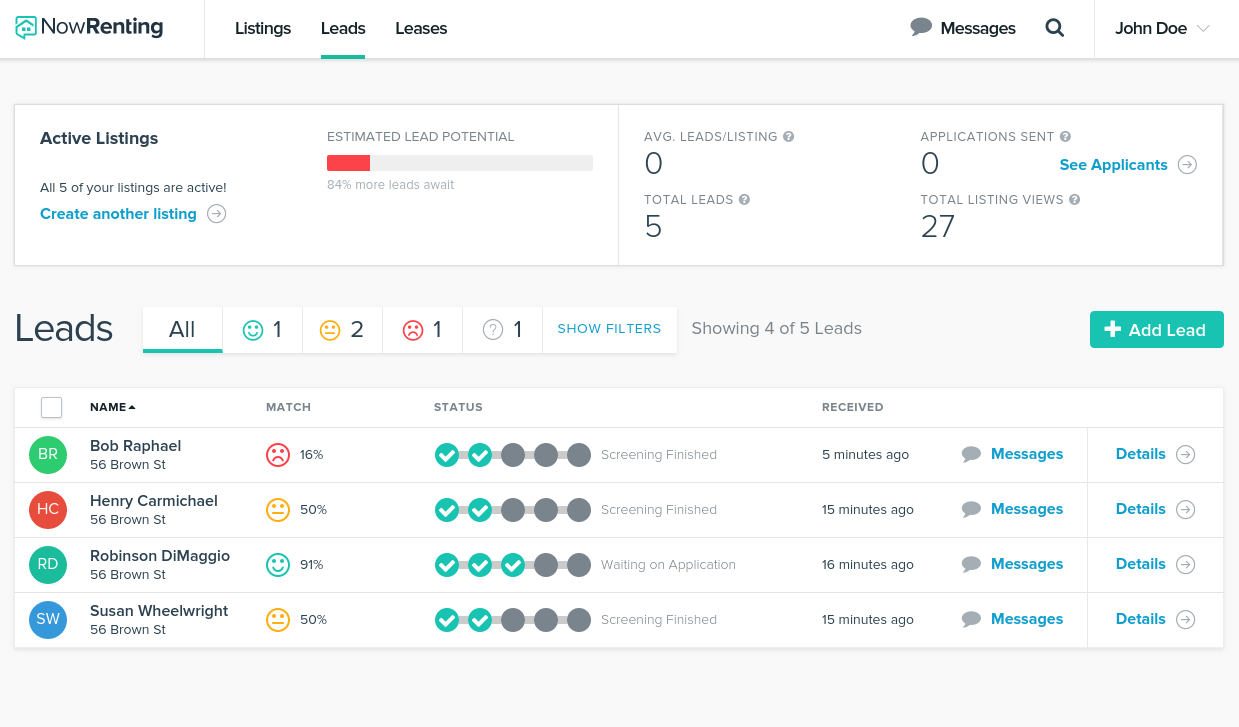 Filtering, sorting and reviewing leads is a big time-saver, and NowRenting makes it easy.
2. Provides Free Eviction History, Criminal Background & Credit Reporting
Another feature that makes NowRenting.com the best tenant background check website is its partnership with TransUnion.
This makes it possible for NowRenting to deliver a comprehensive tenant background report. So not only do you learn about any criminal history of a potential tenant, you also get to scan their eviction history and view their credit score.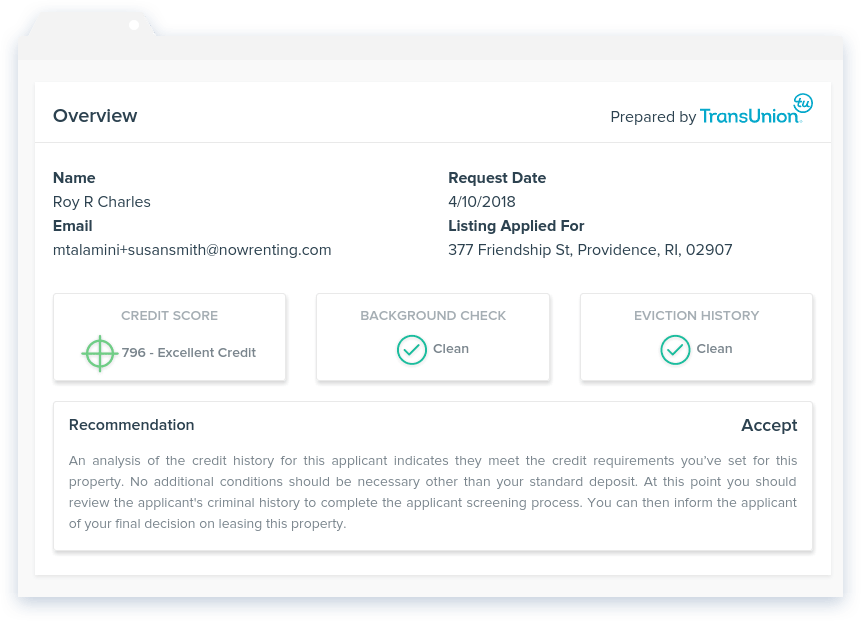 TransUnion is one of the most trusted services in the rental industry, so you can rest assured you're getting the most accurate and complete background report possible.
What's more, your tenant pays the fee for the background report. That's right—you can pass the cost onto the tenant as part of their application fee, with just the click of a button.

Start your free tenant background check now!
3. Gives You the Option to Charge Leads an Additional Tenant Background Check Fee
Another feature that makes NowRenting the best tenant background check website is that if you want to up-charge a tenant for their background report, you can.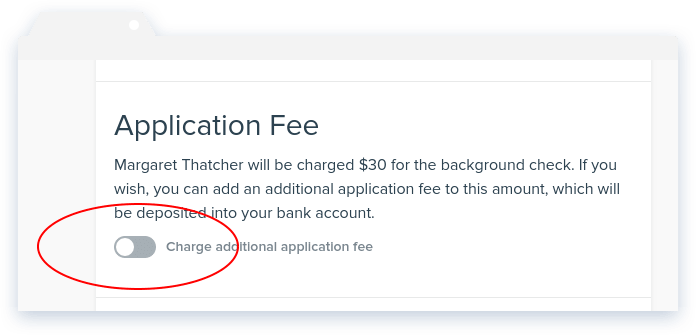 This will add an additional application fee to the total they will be charged, which is a nice option for landlords and property management pros. This way, if you need to cover additional administrative expenses, it's possible.
4. Streamlines All Your Other Rental Business Tasks
When you use NowRenting to retrieve a full tenant background check, you also benefit from other features that make the entire leasing and tenant management process a breeze.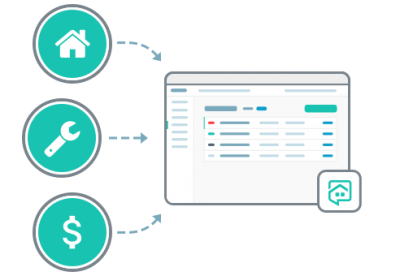 Here are some of the other tasks that landlords and rental professionals have streamlined thanks to NowRenting's features:
Posting a listing to multiple websites at once
Monitoring the status of leads and tenant requests
Sending digital rental applications
Creating, sending, signing digital leases (with the ability save, re-use & edit the templates)
Online rent collection (auto-pay also available for tenants to enroll in)
Payments delivered to your bank account via ACH
Lease balance tracking
Accepting & managing maintenance requests online
Automating notifications to tenants (rent due, rent late, eviction in process, etc.)
Centralizing all communication (get a NowRenting inbox & phone number to keep your business life organized)
Managing your properties from a mobile app or via browser
Creating an easy custom website for all your properties
Integrating QuickBooks
Try the Best Tenant Background Check Website
Interested in raising the bar when it comes to tenant background checks?
It's time to start finding better tenants to save yourself the time and hassle of dealing with evictions, flaky tenants and generally sub-par renters. Try the best tenant background check website for free.
Your free 7-day trial will allow you to experience the full NowRenting experience. This includes free tenant background checks, digital leases, online rental applications and more.