Free Property Management Software
A lot of people are searching for free property management software these days. And for good reason! The days of the rolodex and little black book are gone. Developers are creating better and better tools for keeping track of things online. Everything from exercise to bills to, yes, real estate has its own cloud-based tool.
Many of these tools are very low-cost, and many are even free. NowRenting recently made big changes to our pricing policy. One of those changes was to add a huge number of features to our free plan. And many of those features are useful to property managers. That's what makes us one of the best free property management software tools around.
I'd like to point out a few features available to free plan users. You'll see how NowRenting distinguishes ourselves from the rest of the pack!
NowRenting Leases
The lease template feature gives access to a simple rental agreement form. You can copy and edit our lease templates too, and tenants can fill them out online. You'll be able to set up automatic ACH rent collection, rent tracking and reminder emails. And our integration with Quickbooks makes keeping your accountant happy a breeze!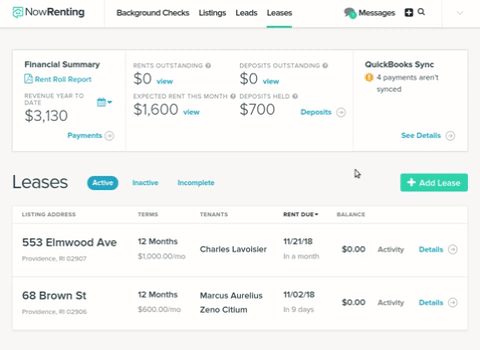 NowRenting Listings
Our free plan doesn't include syndication to our extensive partner network. However, even as a free user, we publish your listings to the NowRenting directory. You'll also be able to create a beautiful, custom website to showcase your listings. You can even use your own domain name for it, if you have one! This is a feature that a lot of free property management software tools don't offer.
NowRenting Leads
We include free background checks, including eviction history, within the Leads offering. Just as easy to use are our online, e-signable rental applications. Also included are our simple-to-use showing scheduler and screening surveys for prospective tenants. Once they fill out the survey, we rank all your leads according to how well they match your preferences. That makes it easy to pick your perfect tenant!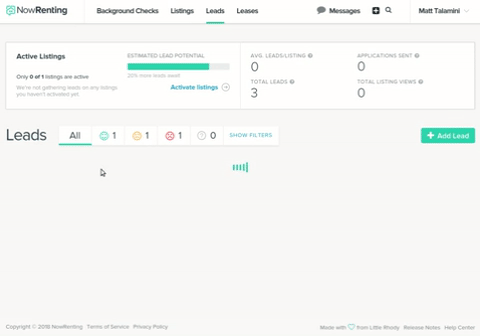 When you consider just how many features NowRenting's free plan offers, other free property management software tools just don't compare. Sign up here!