(Note: The multiple users feature is only available to Business accounts. To upgrade your account, sign in to NowRenting and navigate to https://nowrenting.com/upgrade/business)
Add a New User
Click Company in the dropdown menu in the upper right to go to the Company Settings page. The Users tab on the left will allow you to manage the users connected to your account.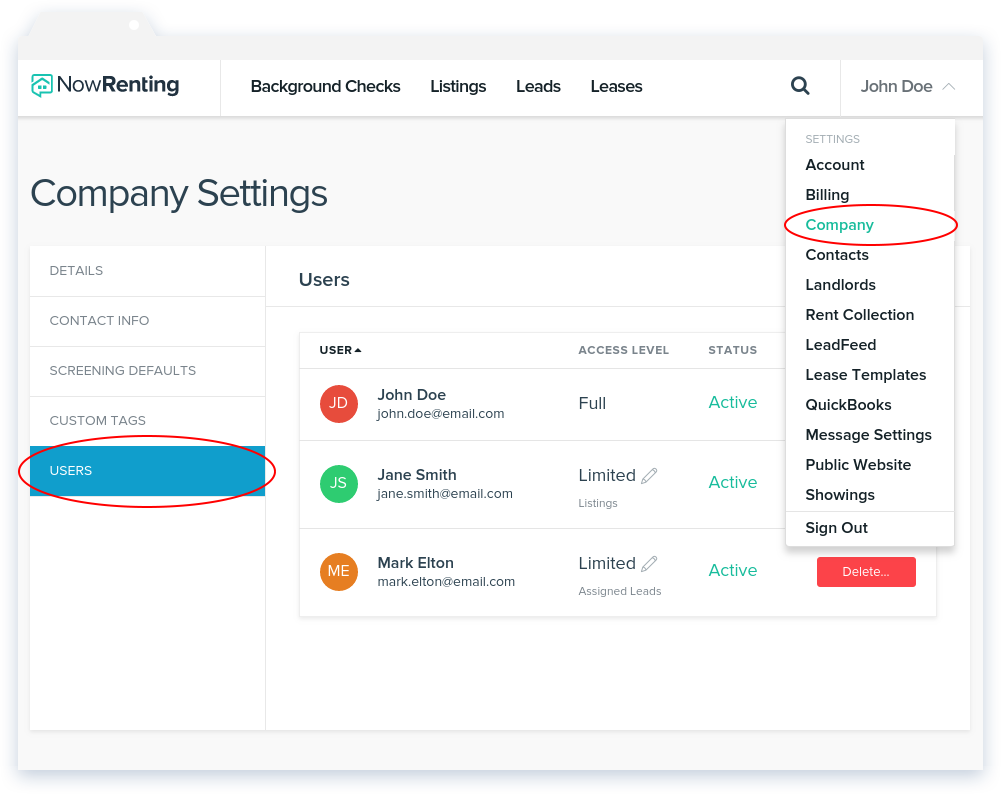 Click the Add User button to add a new user.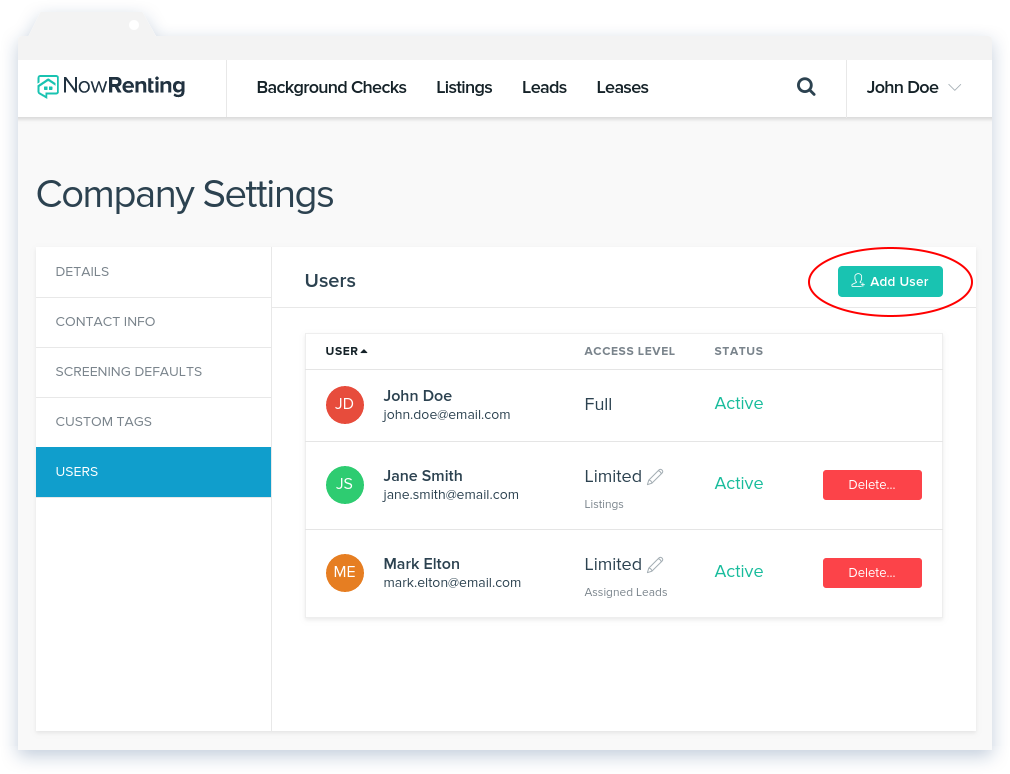 Enter the new user's email address and select their permission level.
Full users have no restrictions. They can also delete and edit the permissions of other users.
Limited users only have access to the features assigned to them. Assigned Leads allows them access to the Leads feature, but only for Leads that have been assigned to them. Listings allows them access to the Listings feature.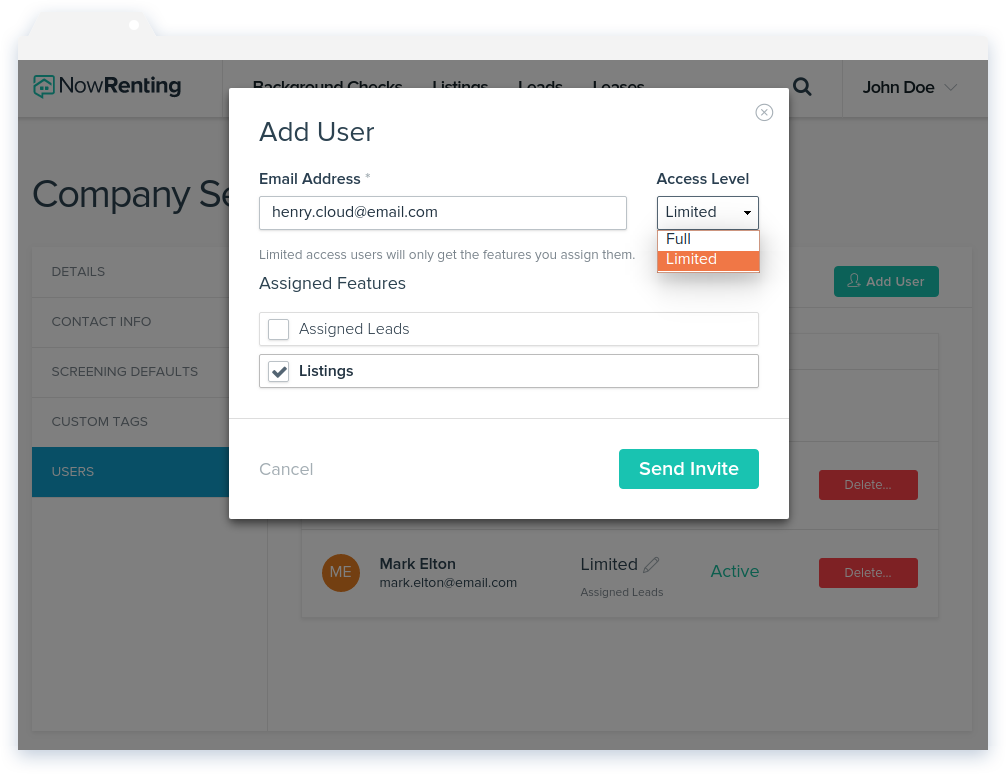 You can always change a user's permissions by clicking the pencil icon next to their name.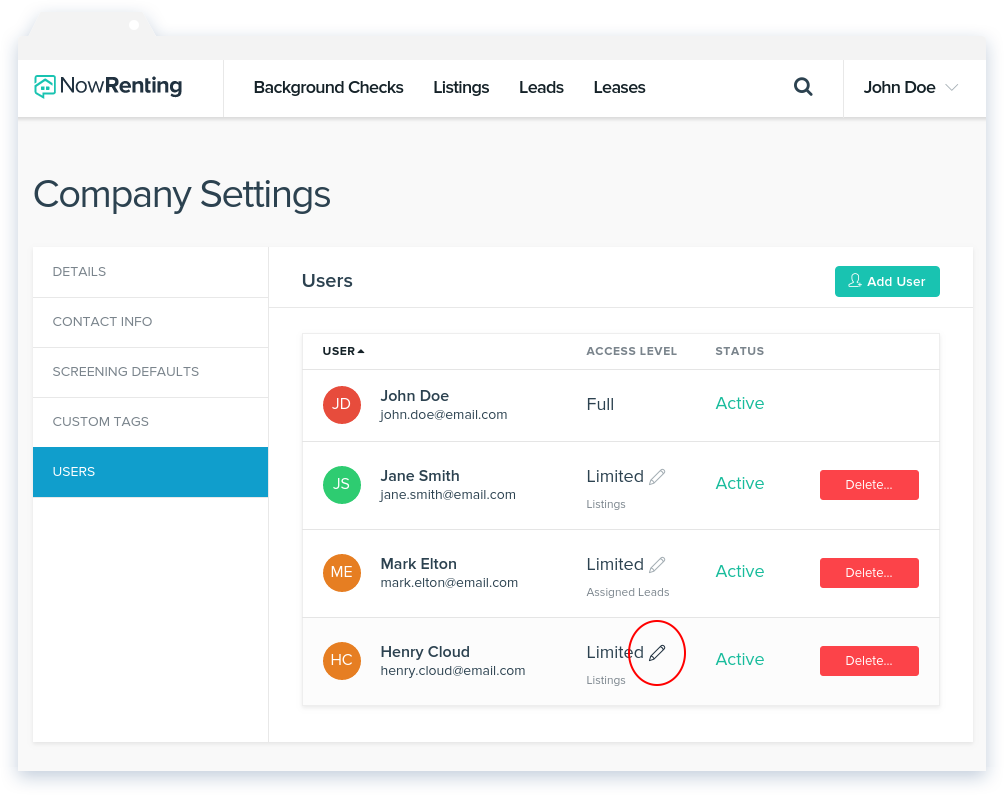 Assigning Leads to A User
To assign a Lead to one of your users, navigate to your Leads page.
Select the Lead (or Leads) you want to assign by clicking the checkbox to the left of their name. (It will appear when you move your mouse over their avatar image.)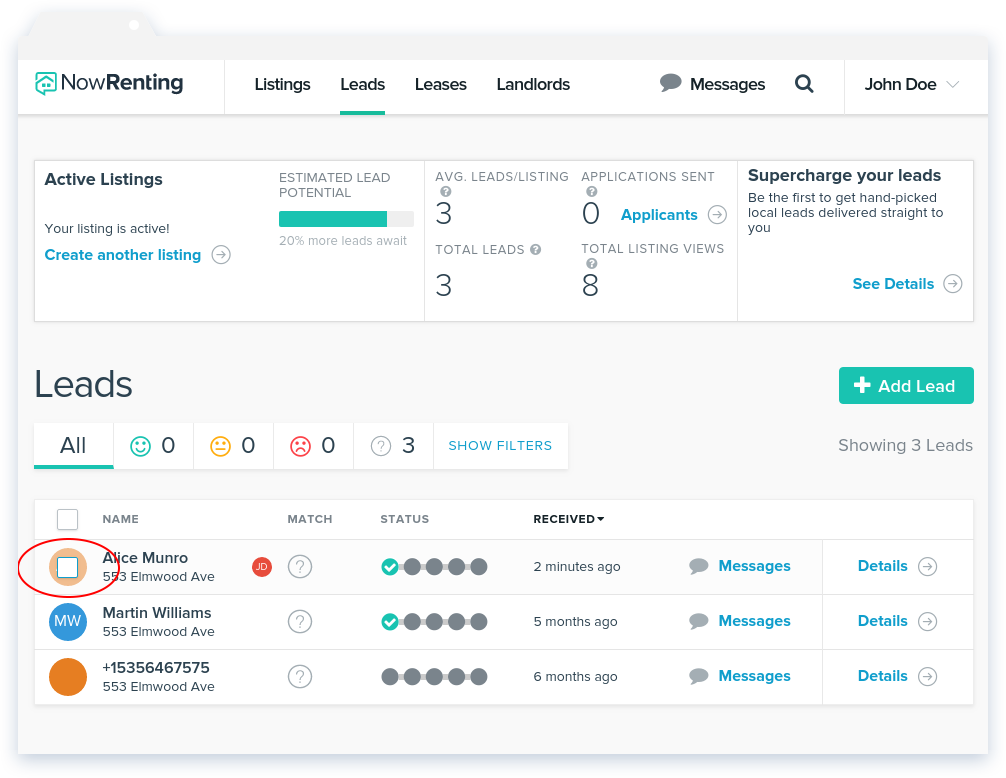 When a Lead is selected, the Members button will appear above the Leads table. Click it, and a dropdown menu will appear.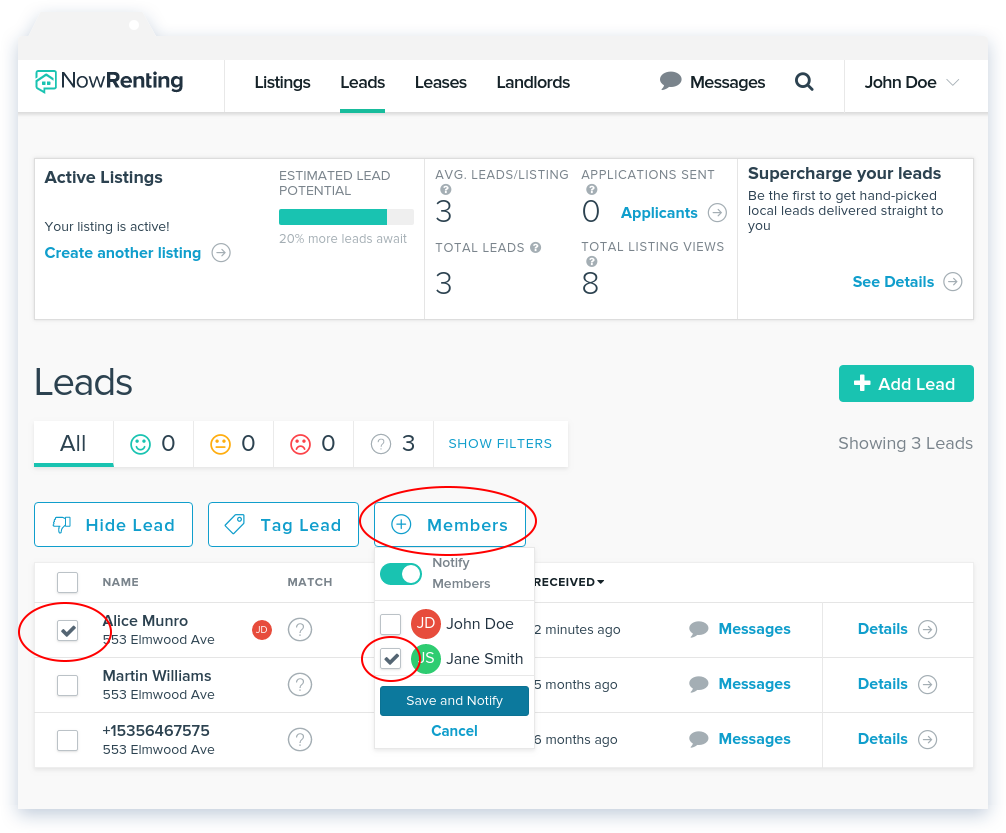 Select the user (or users) you want to assign this Lead to. The Notify Members slider controls whether the user will get an email about their new Lead.
Click the Save button to assign the Lead.
Responding to A New User Invitation
When a new user is invited to join NowRenting, they will get the email shown below. Click the Accept button.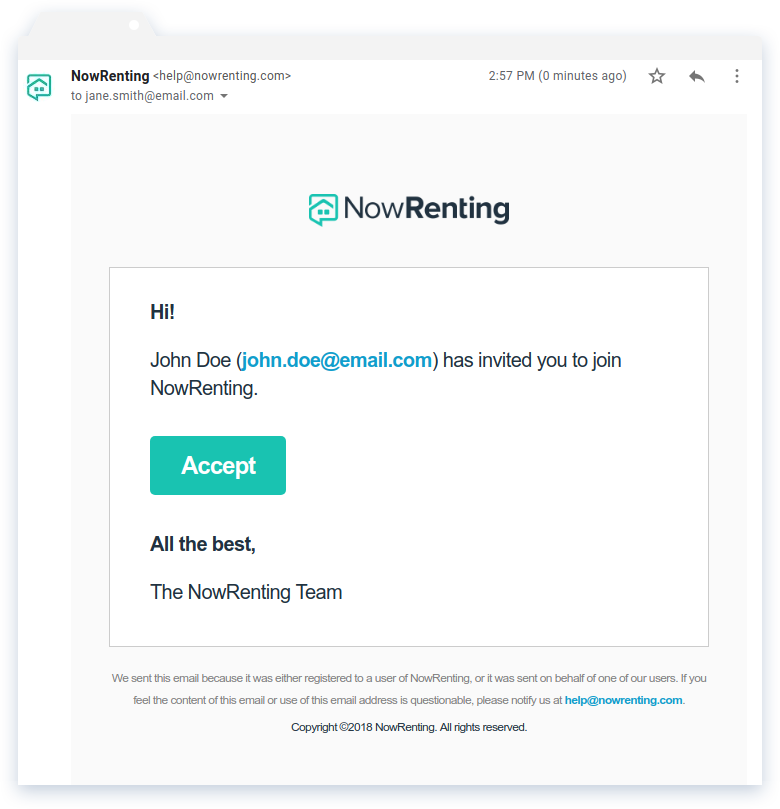 Enter your name and a password, and ensure that the email address shown is the one you want to use. Then click Accept Invite.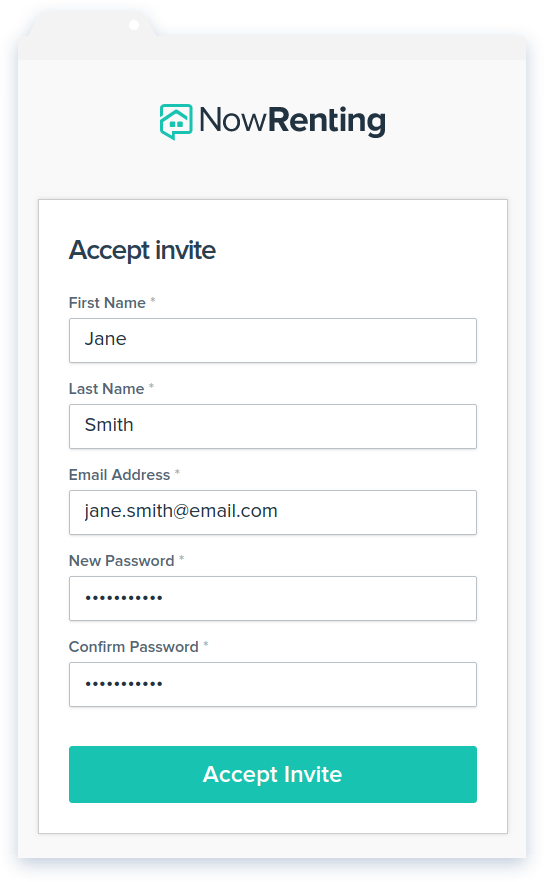 New users with Limited permissions will see only the features they have access to. If a user has the Assigned Leads feature, they won't have any Leads until some are assigned to them, as shown below. They can also add Leads manually with the Add Lead button.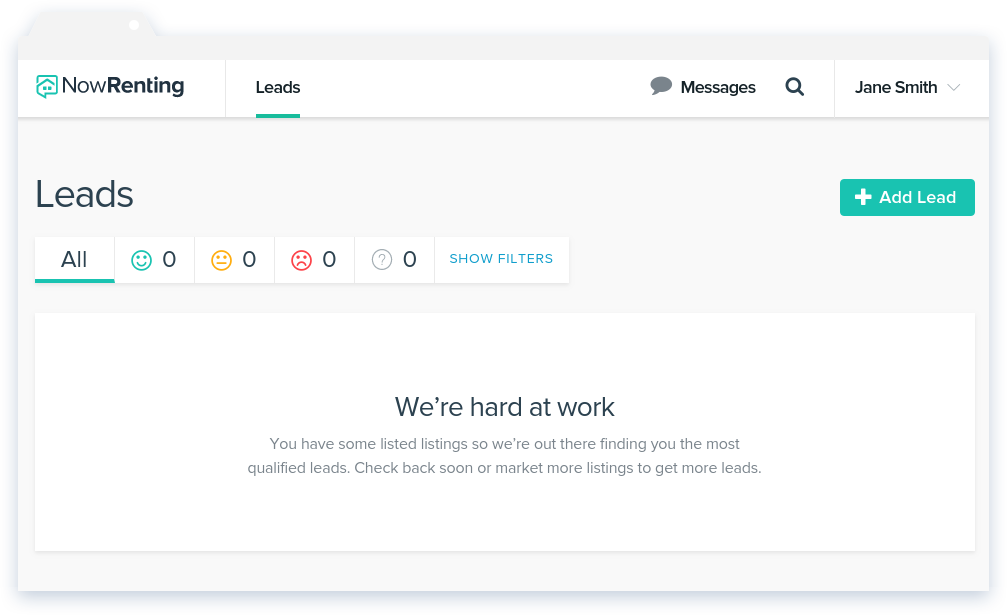 A Limited permissions user with the Listings feature will be able to access your Listings, but nothing else. (Unless they also have the Assigned Leads feature, which would allow them to view their Leads.)