(Note: Credit card rent payments must be enabled by your landlord in order to work. If you're a landlord, see here for instructions.)
1. First, connect a credit card to your NowRenting account. To do that, navigate to the Payments & Rent page and click on the Add Bank Account or Credit Card button: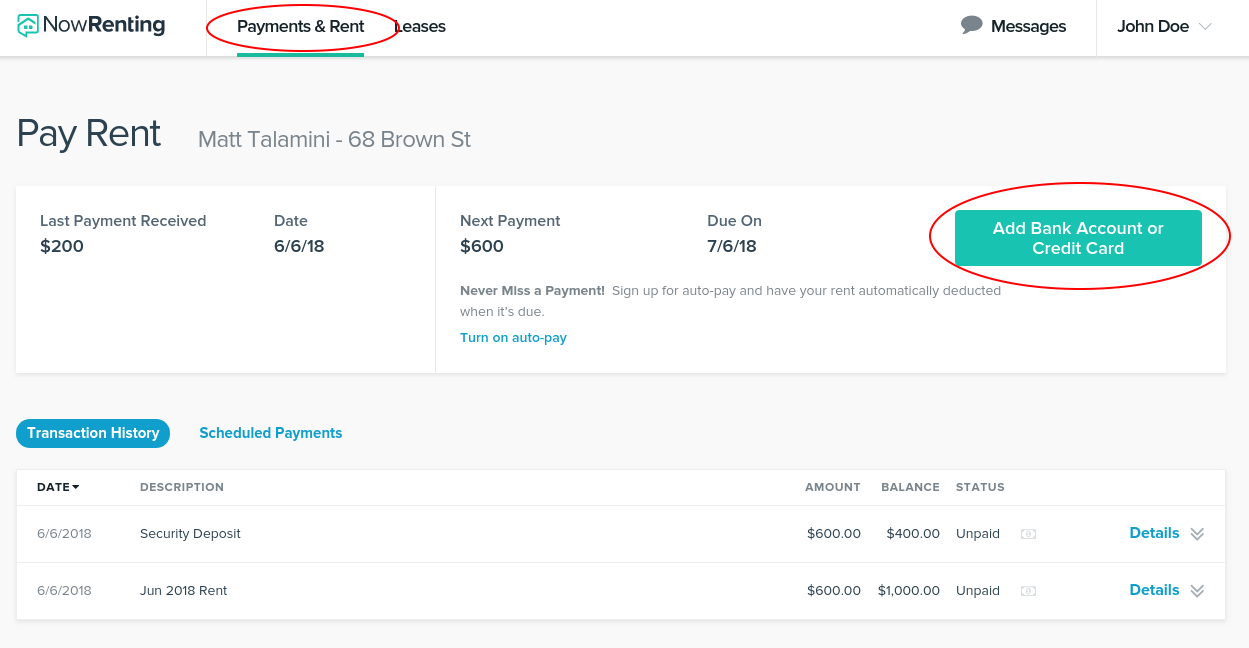 2. Click the Connect Credit Card button. (If you wanted to set up ACH payments, you could do that from this page as well.)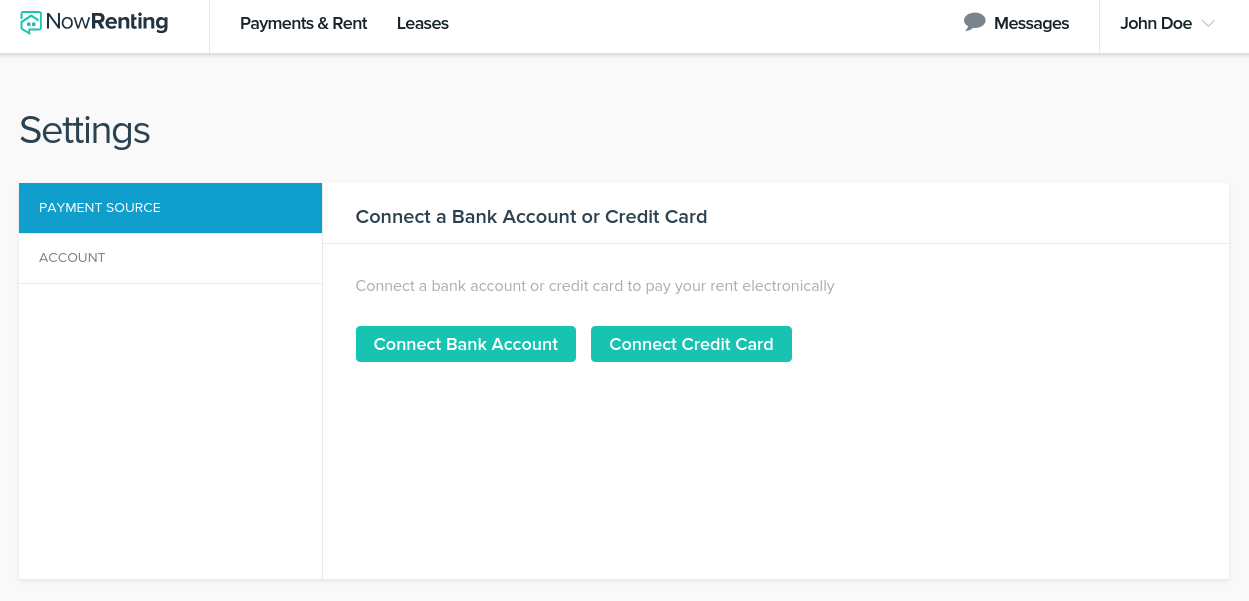 3. Enter your credit card information.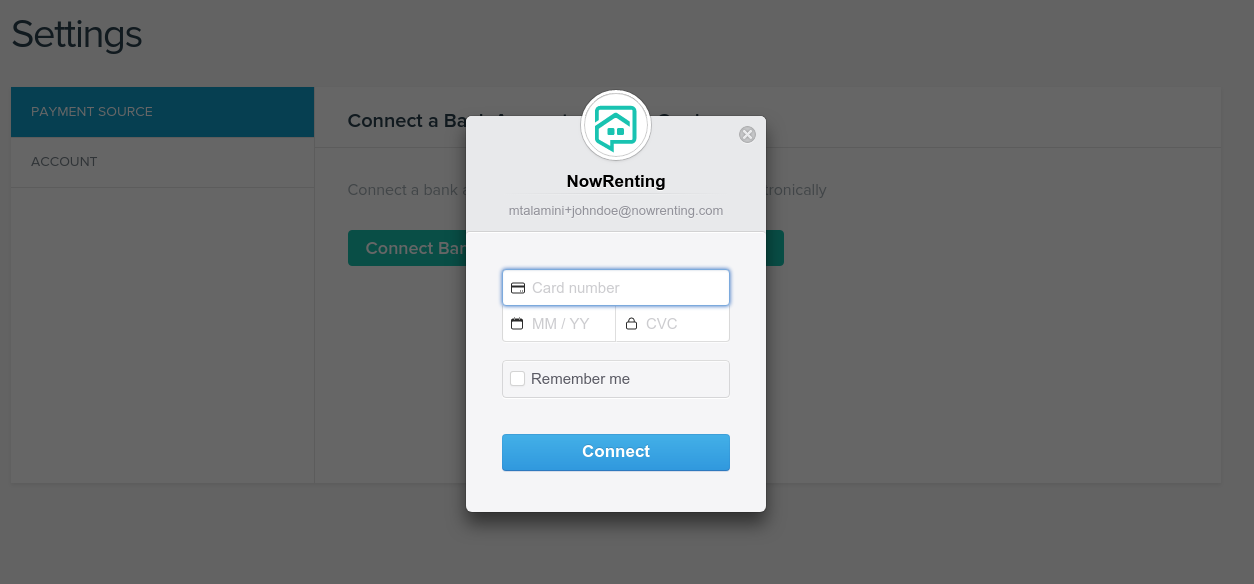 4. Make sure that the credit card listed on the Manage Credit Card screen is the one you want to use.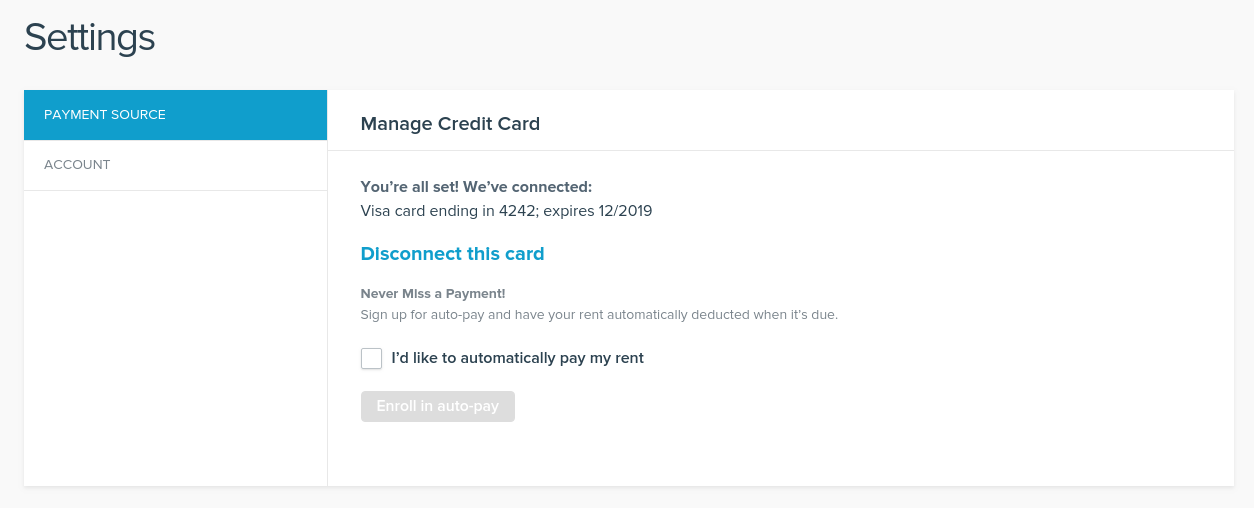 5. Navigate back to the Payments & Rent screen. Click on the Pay Rent Now button.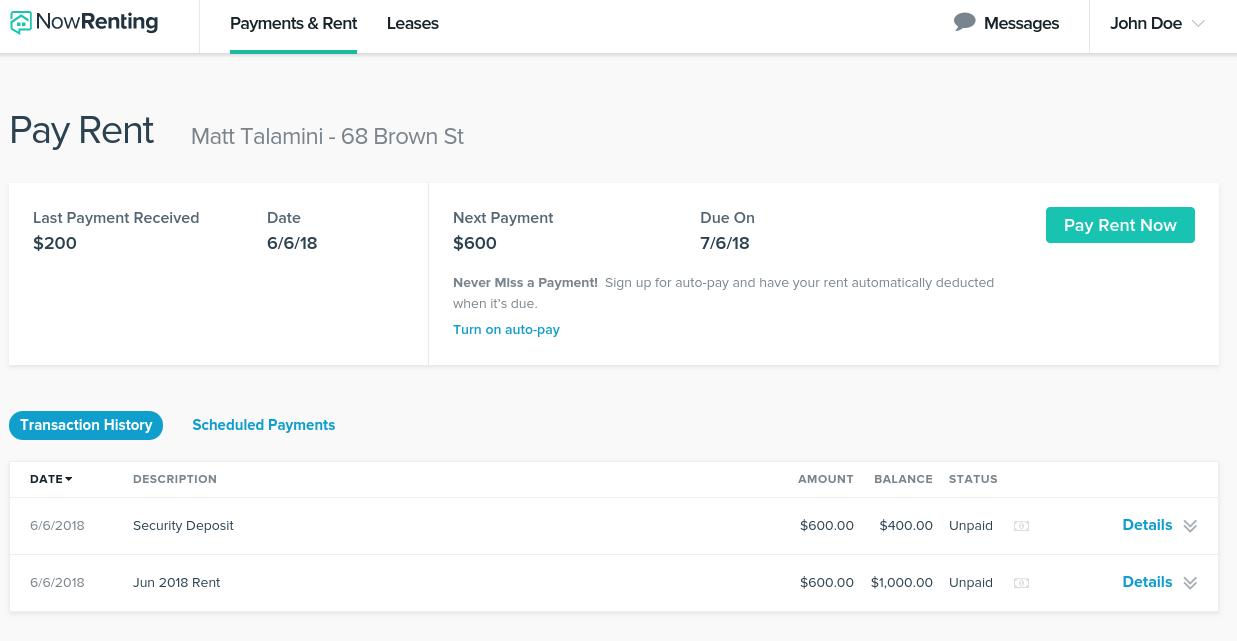 6. You'll be given the option to pay the full amount outstanding on your lease, pay one full month's rent, or enter a custom amount.



(Note: Depending on your landlord, there may be a Stripe processing fee associated with the payment. If so, it will be shown here.)
7. When you click the Enter Custom Amount radio button, a text input will appear. Enter the amount to pay, then click the Submit Payment button.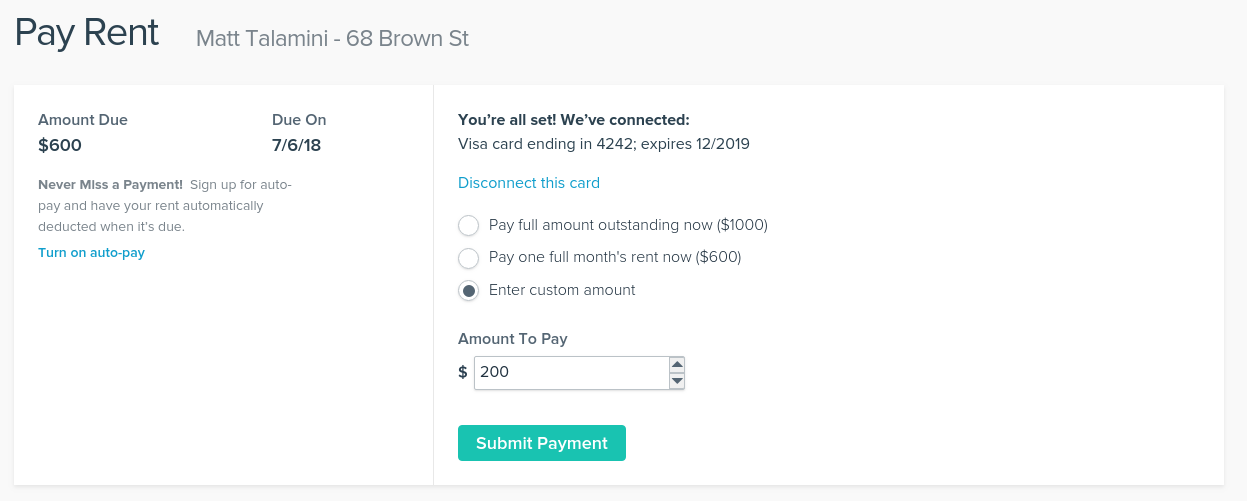 8. Confirm that you want to submit the payment by clicking the Submit Payment button. That's it! The Payments & Rent page should now reflect the new payment you've just made.


Using Auto-Pay with a Credit Card
You can use auto-pay with a credit card just as you would with ACH.
1. Make sure that you've connected a credit card to NowRenting.
2. Navigate to Settings > Payment Source.
3. Make sure the checkbox labelled "I'd like to automatically pay my rent" is checked.
4. Click the Enroll in auto-pay button.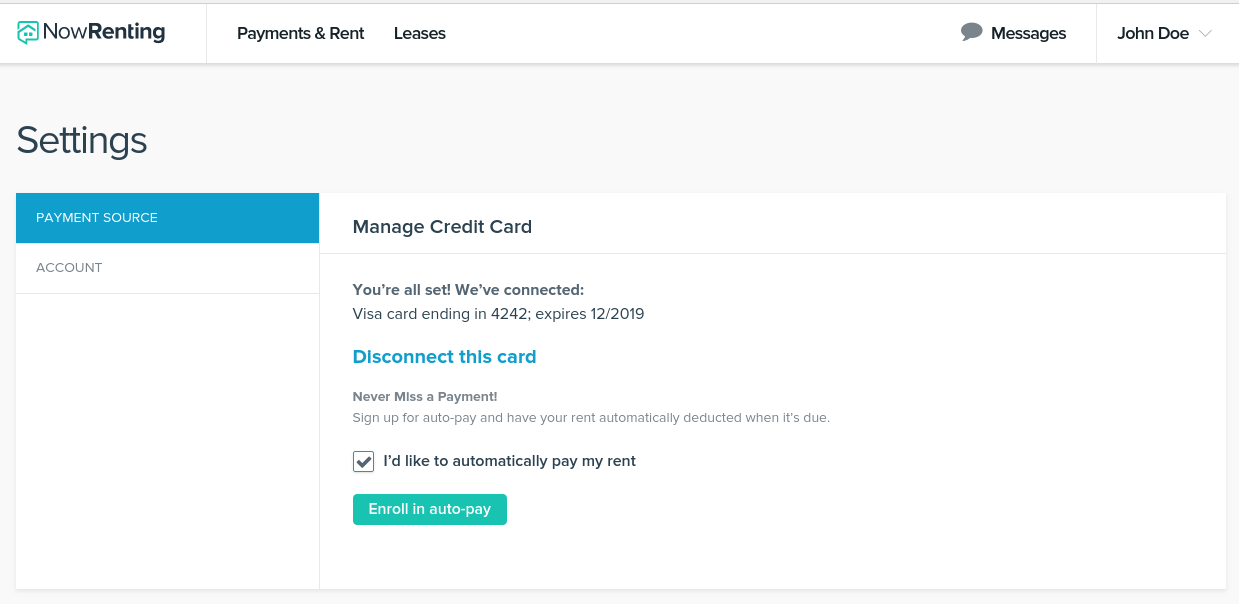 Once auto-pay is enabled, the Payment Source settings page will reflect that, and give you the option to disable auto-pay.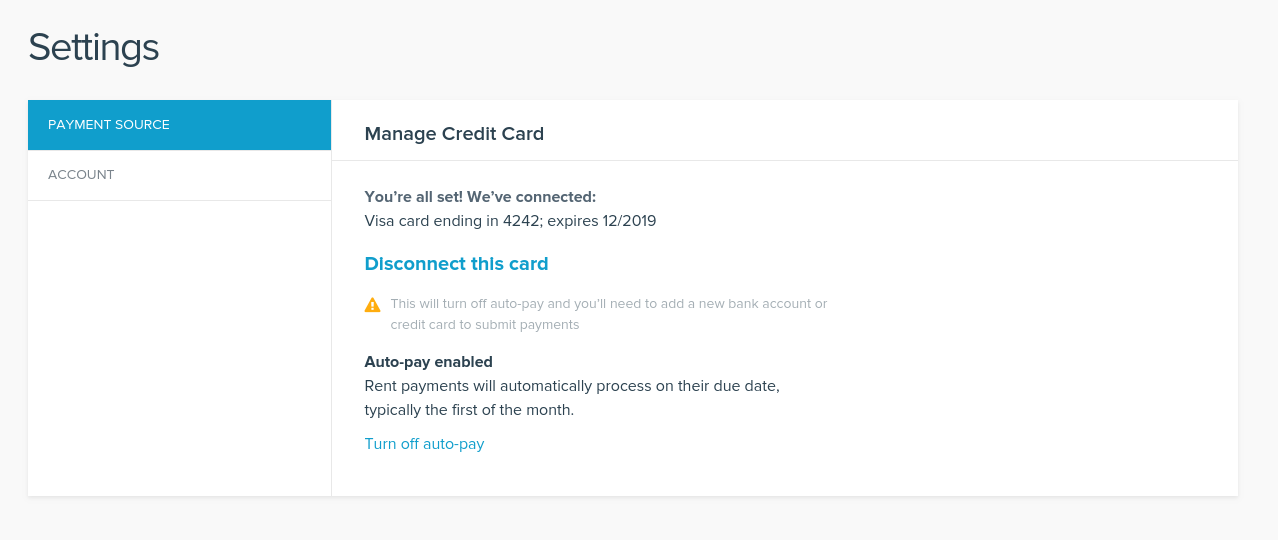 (Note: Depending on your landlord, there may be a Stripe processing fee associated with each payment. If so, it will be shown here.)