Navigate to the Listings page by clicking the Listings link in the top navigation bar.
Click Add Listing
Location Details

You will be taken through a series of pages where you will be able to tell us all about the property you're listing.
The first is the Location page, where you will be able to enter in the most important details about your property.

If you want to hide the address of the listing, just check the Hide Address box.

Listing Description


Enter the description of your property that will appear in the NowRenting Directory. Make it pop!
The Application Fee / Commission field is there to let your Leads know how much they can expect to pay you over the course of the application process.

Add Amazing Photos of the Property

NowRenting suggests adding at LEAST 5 photos of your property, but of course the more the merrier. Get professional photos or try a wide angle lense attachment for your camera phone.

Customize Amenities

Take the extra time now to communicate the basics of the house. This will save you time down the line fielding unnecessary questions.

Marketing

On this page, decide whether to syndicate your listing through our partner network of listing sites.

Set Screening Questions

Help us find you the best tenants by setting questions that are relevant to the particular property you're listing, as well as to your preferences as a landlord.
Be sure to tell us how good or bad each answer is, so we'll know how to evaluate potential tenants' responses!

The Listings Dashboard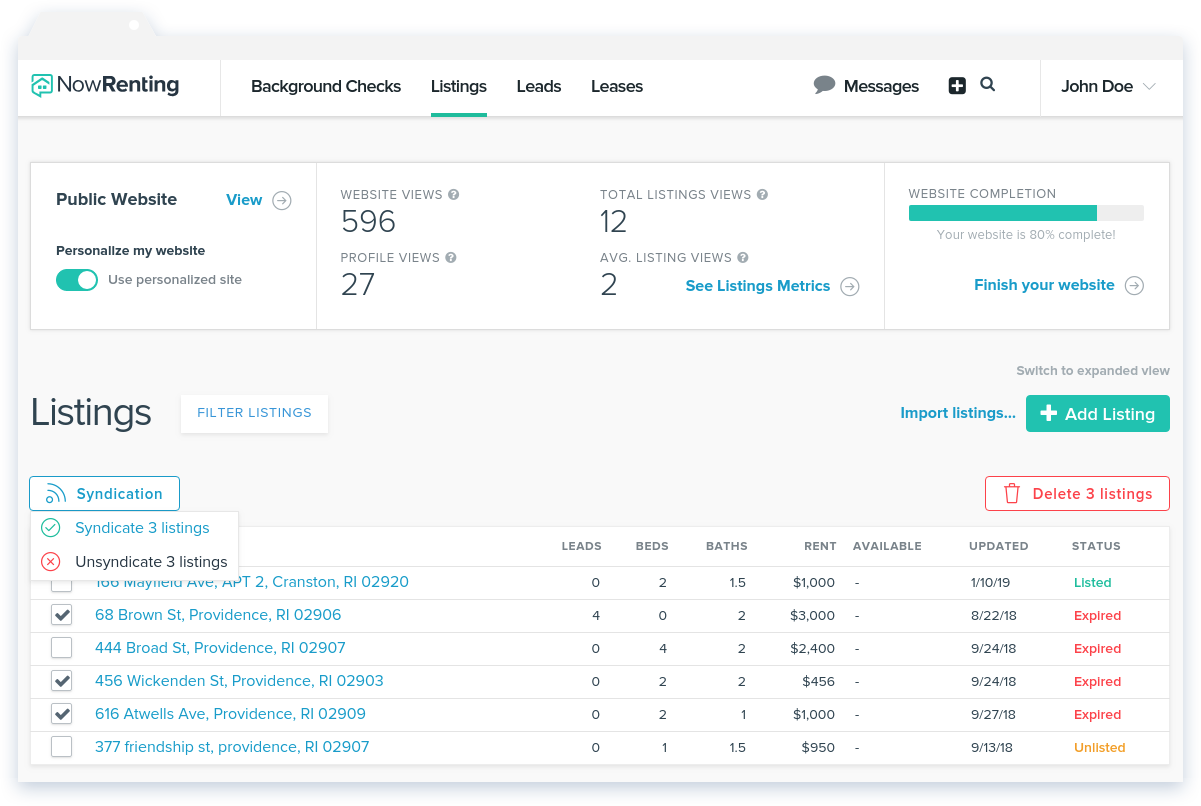 Once you've added a Listing, it will be visible on your Listings dashboard. The Listings dashboard can be accessed from anywhere in NowRenting by clicking the Listings link on the top navigation bar.
Click the Filter Listings button to access powerful filtering options that will let you choose which Listings to view.
The Switch to compact view link makes it possible to select multiple listings and then syndicate, unsyndicate or delete them all at once.