Default Showings Settings
To change your default showings settings, first click the main settings dropdown in the upper right, then select Showings.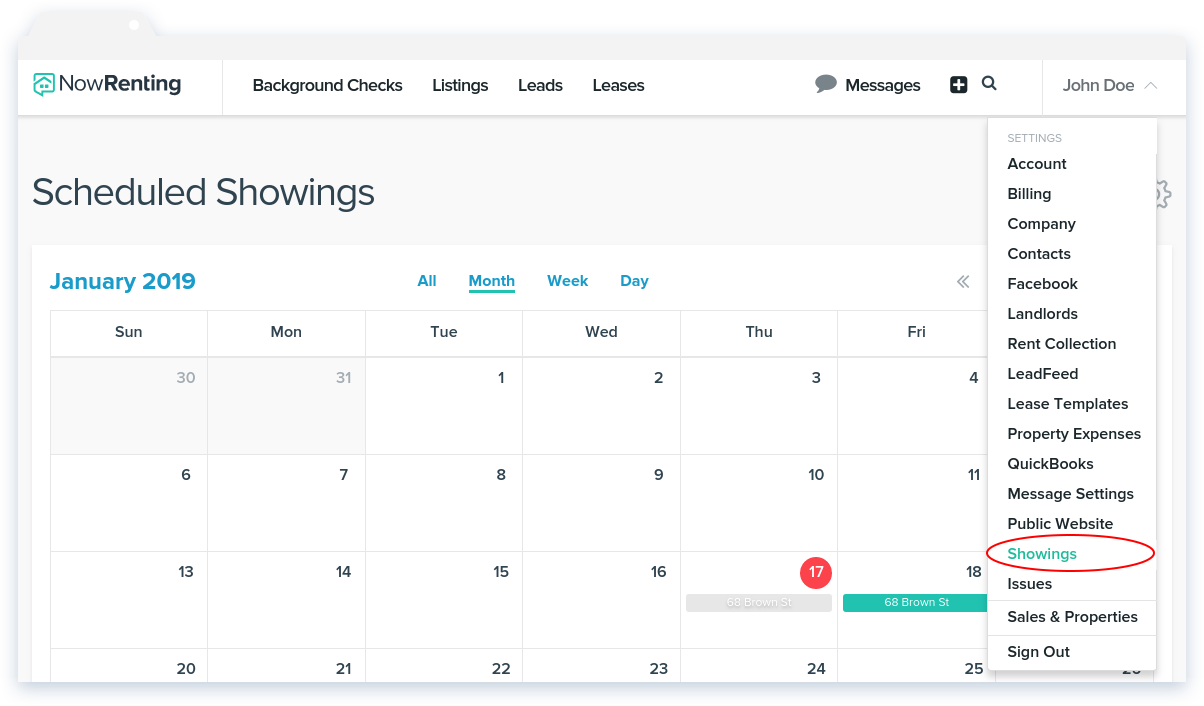 The central view of the Showings page is a calendar that displays scheduled showings for all your Leads and Listings. To access the settings menu, click the gear icon in the upper right.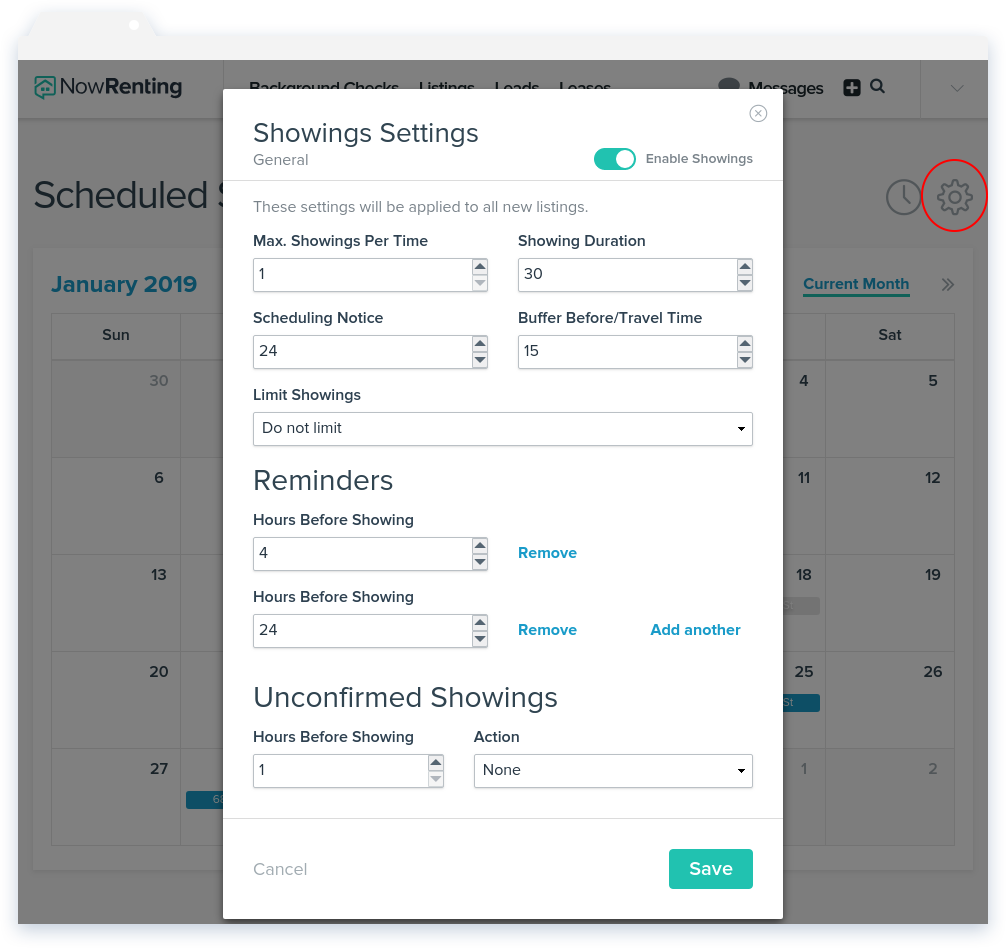 Enable Showings: This switch turns the showings feature on and off.
Max. Showings Per Time: Leaving this set to 1 will prevent Leads from creating scheduling conflicts. You may wish to set this to a higher number if you have multiple people in your office who can show properties.
Showing Duration: This sets the default duration of showings.
Scheduling Notice: You may not want to allow Leads to schedule a showing for half an hour from now! This number represents how far in advance Leads have to schedule showings.
Buffer Before/Travel Time: Setting this number prevents showings from being scheduled immediately before or after other showings, to give you enough time to travel from place to place.
Limit Showings: This dropdown allows you to limit showings to once per day, once per Listing per day, or to not limit them.
Reminders: NowRenting can send reminder emails to attendees at times you specify. Just specify the number of hours before the showing the email should be sent. To send multiple reminder emails, click the Add another link. These reminder emails ask the attendee to re-confirm the appointment. Failing to re-confirm triggers the Unconfirmed Showings action.

Unconfirmed Showings: These controls let you specify what to do if a Lead has not re-confirmed a showing. You can specify a number of Hours Before Showing; if that time is reached without the Lead re-confirming the appointment, the Action is taken. Choose between no action, automatically canceling the appointment, and sending you an email notification. The confirmation email that's sent when an appointment is first created does not trigger the Unconfirmed Showings action—only the reminder emails do that.
New Listings will automatically take on whatever settings are specified here.
Individual Listing Showings Settings
The same settings are available for individual Listings. Just navigate to the Listing's details page and click the Showings pill, then the gear icon in the upper right.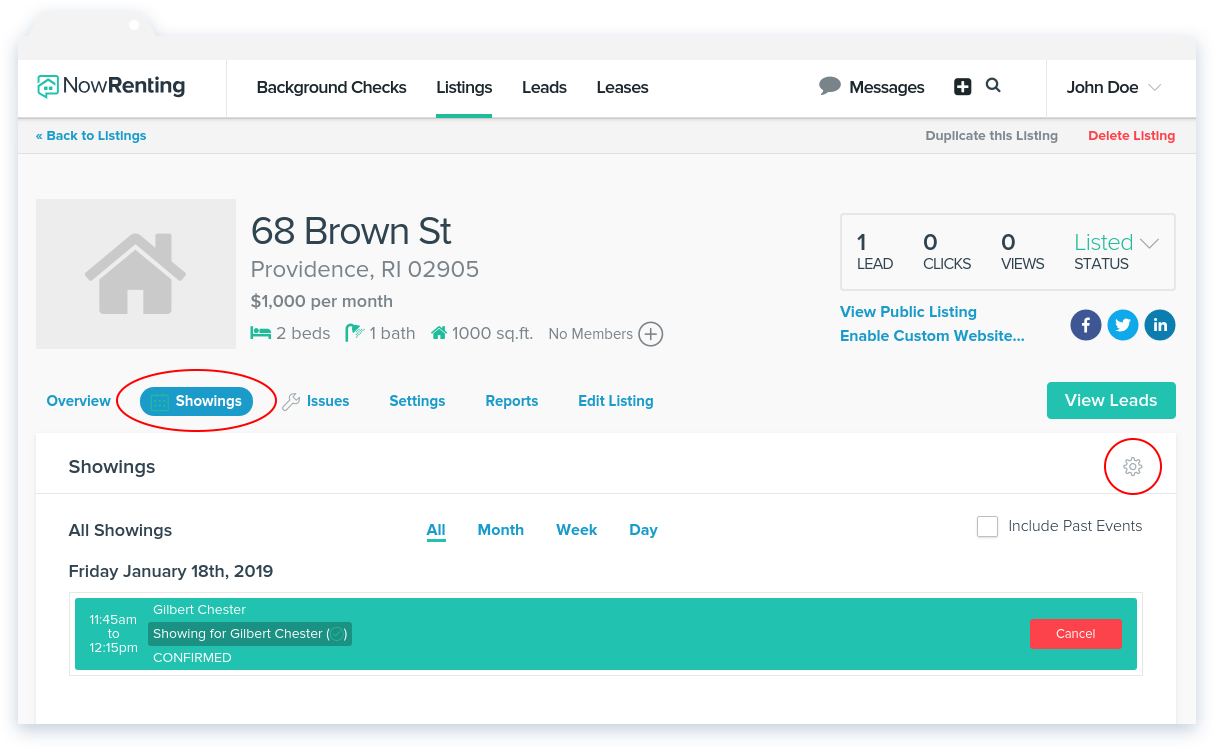 Settings that are specified for individual Listings override any in the default showings settings menu.