This week brings a large number of new features that increase the power of NowRenting's showing scheduler. From additional communication options to new time management tools, every upgrade this week will help you manage your showing appointments effectively and with minimal effort. With these improvements (plus a few more coming soon) NowRenting is becoming a comprehensive solution for managing your office's schedule.
Post-Showing Feedback
After a showing, attendees will get the opportunity to leave feedback about their experience. This feedback is compiled as part of the weekly Owner Report, allowing you to keep a finger on the pulse of your business.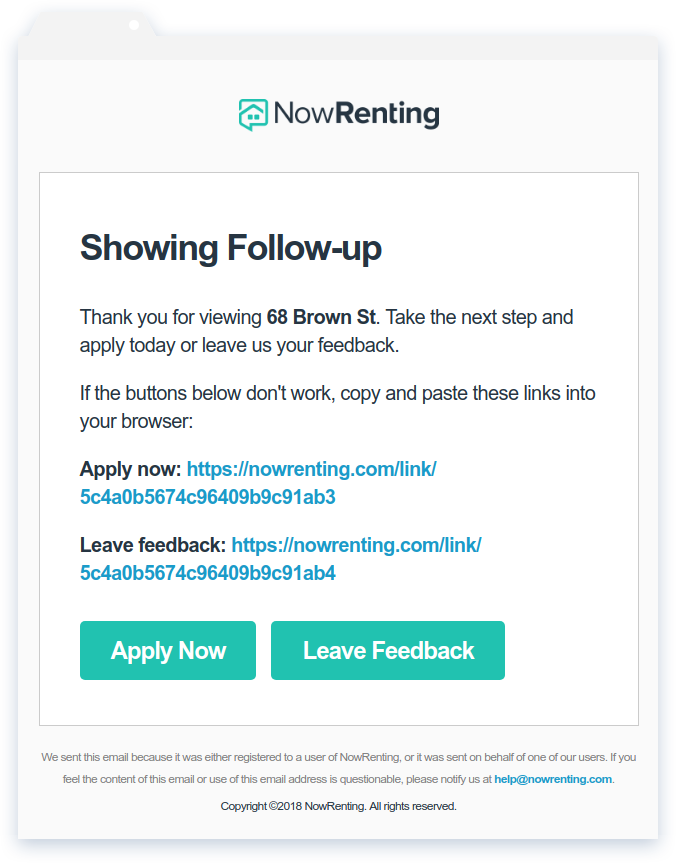 Information about how attendee feedback is gathered can be found here, and more details about the Owner Report are here.
Availability
You can now establish particular times during which you're available to show properties. Leads invited to schedule a showing will be able to choose from the times you specify. No more need to try to communicate your busy schedule over the phone! Just enter it into NowRenting, and our system will make coordinating a time with your Leads a breeze.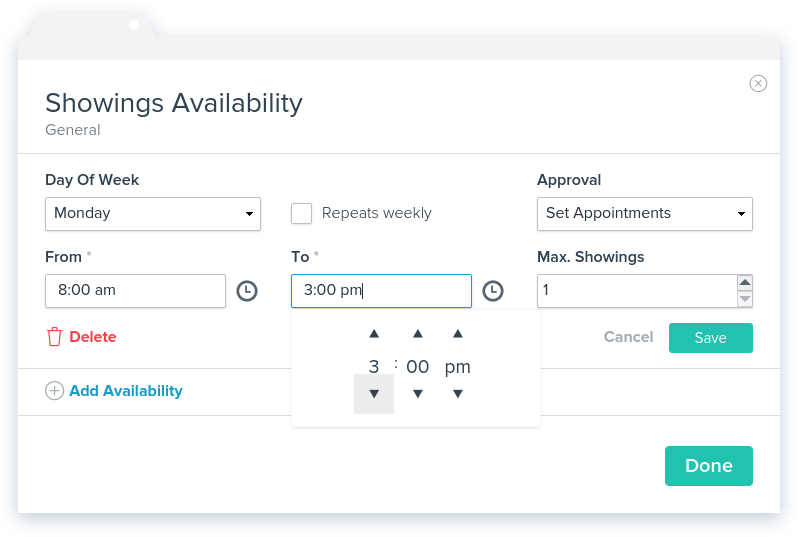 For more details, read the help article here.
Schedule Conflict Prevention
Another tool NowRenting offers to help you manage your schedule is the new conflict prevention feature, accessible through the Showings Settings menu. Pick how much notice you need prior to a showing; how long before and after to block off for travel time; how many showings per time slot your office can accommodate; and whether to limit the number of showings per day, per Listing or not at all.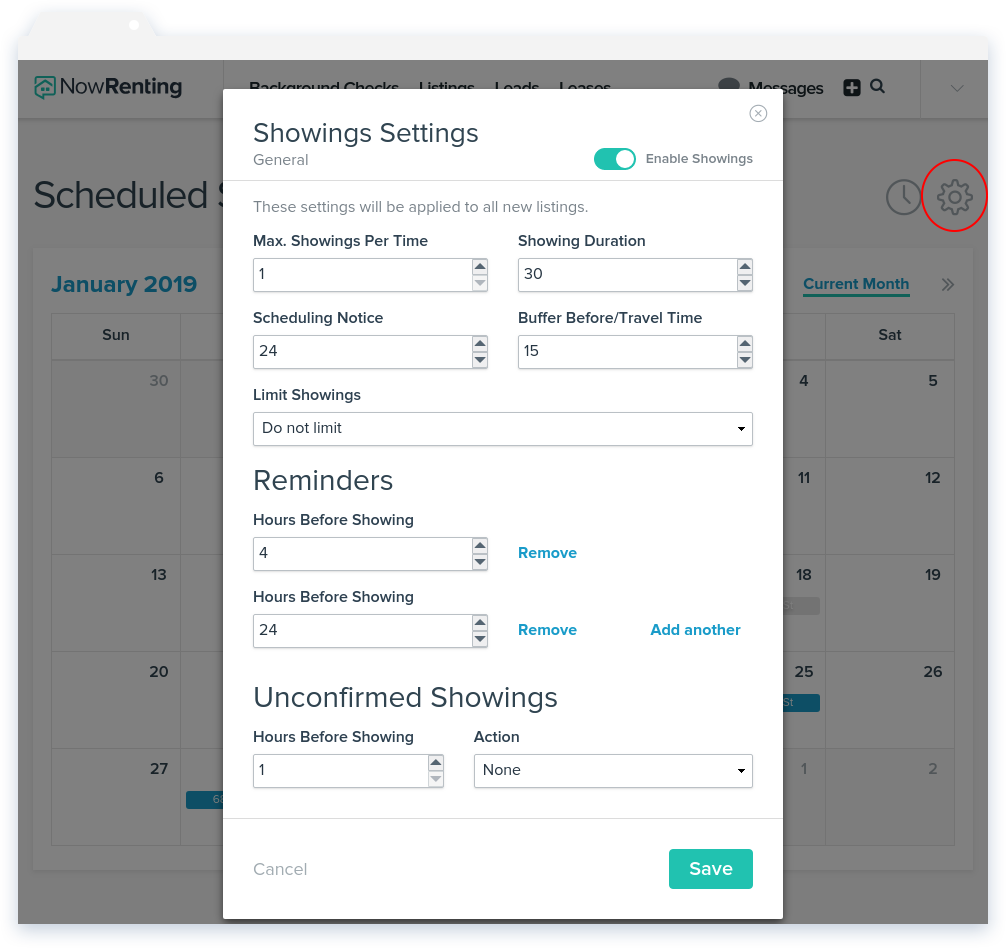 For details on managing your Showings settings, refer to the help article here.
Reminder Emails
For additional communication options (also in the Showings Settings menu) you can now specify particular times for reminder emails to be sent to confirmed attendees. Not only will these emails remind your Leads when and where to meet you, they'll also ask for confirmation again; if that confirmation isn't given, NowRenting can automatically respond in a way that you specify.
For details, see the Showings Settings help article.
Wait List
You can now place a Listing on hold, so that Leads who interact with it are added to a wait list rather than receiving an immediate response. Just go to the Wait List pill in the Listing's page, where you can turn the wait list feature on and off. When you turn the wait list off, NowRenting will send your standard Lead response (whether that's screening questions, an application or an invitation to schedule a showing).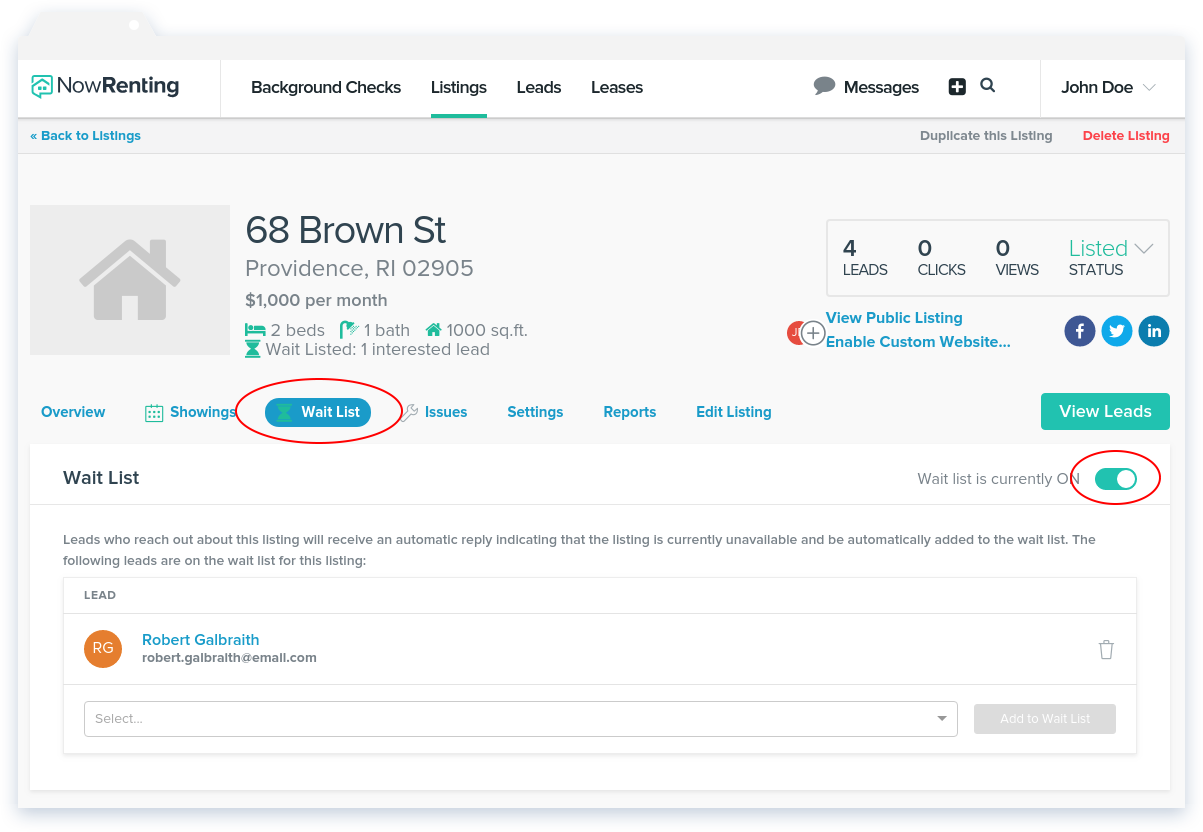 For more information about the wait list, see here.