(Update: As of December 2018, NowRenting's pricing structure has changed. Visit the pricing page for up-to-date information.)
If you're in the middle of receiving tenant applications for your rental property and want to minimize your expenses, you'll benefit from learning how to get a free tenant background check online.
While various tenant background check services exist on the internet, it's rare to find one that seamlessly integrates with other tenant management tasks to make your life easier as a landlord.
In this post, we'll tell you how to get a free tenant background check using our online landlord software, NowRenting. You'll also learn how you can further streamline your rental management tasks when you use the suite of tools in our platform.
Best of all, NowRenting was developed by landlords, so we truly understand the ins and outs of the rental business!
How to Get a Free Tenant Background Check Using NowRenting
Ready to save some time and money while successfully filling your rental with the best tenants? Below is the step-by-step approach to getting a full tenant background check that includes eviction history, criminal records and credit reporting.
Here's how to get a free tenant background check in the most hassle-free way possible:
NowRenting.com will display three plans for you to choose from. The paid plans are for landlords and rental property professionals who want to automate as much of their business operations as possible and get unlimited background checks. Then there's the free option. This is the option that gives you access to a complete tenant background check for free.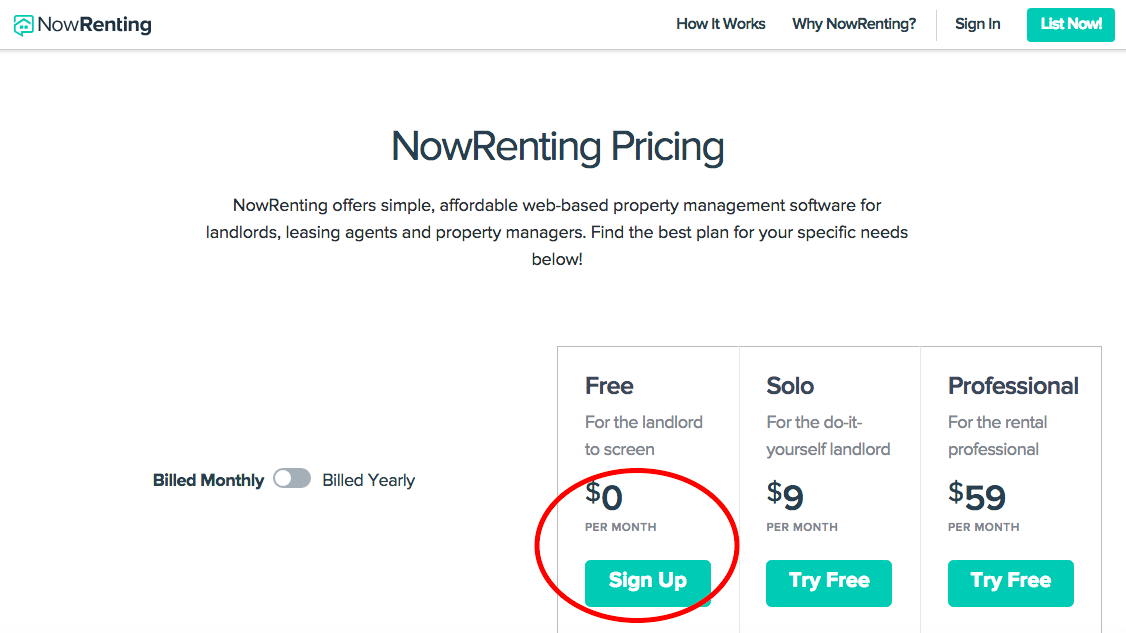 2. Select the 'Free' plan
Choose the 'Free' plan so that you don't need to pay for your tenant's background check. This will give you one-time access to a free tenant background report.
3. Enter your information
No credit card required!
4. Verify your email address
NowRenting will immediately email you at the address you provided to verify your email address. Click the "Verify and Get Started" button in the email.
5. Follow the steps to add an 'Applicant'
You will be taken to the NowRenting website, and you'll be walked through a few easy steps to add an 'Applicant' for whom you'll be requesting a free background check.
In addition to background, eviction, and credit reports, we include a recommendation for you based on this applicant's history. You can customize the criteria used for this recommendation. The 'Customized Recommendation' option allows you to indicate 'Minimum Yearly Income' and select from 'Medical Collections,' 'Foreclosures' and 'Bankruptcies in the past X months.'
6. Get your free tenant background check
Your tenant will be invited to pay a small fee for a background check via TransUnion, the industry-trusted background check service for full reports. At NowRenting, we empower tenants to pass the cost of a background check onto the tenant. Serious tenants will pay the small fee if they are truly interested in renting your apartment, house, condo, town home, etc.
Not only is the the easiest solution for how to get a free tenant background check, but it also helps to eliminate poor-quality leads!
NowRenting Offers More Than Just Free Tenant Background Checks
Now that you know how to get a free tenant background report, you should learn more about why NowRenting is the best tool for landlords. And when you subscribe to NowRenting's online landlord software for just $9 per month, you get unlimited full tenant background reports and unlimited digital leases!
(Note: As of December 2018, NowRenting's pricing structure has changed. Visit the pricing page for current information.)